Hi, it's September...and you are excited for Halloween too? Whether it's for a Halloween party for children, adults, or even your self, getting the right treats to thrill your taste buds is a must. Here's a list of Halloween Treats to prevent the attack of the minions(a.k.a. children over the age of 2) and other Halloween tricksters commonly known as opinionated teenagers.
Reminder 1- Secure the Bag...of Goodies
If you are new to hosting or selecting easy halloween treats for a party, getting a variety bag of treats can be the best option and easy win to please people.
The Kirkland Signature Assorted Candy Mix FunHouse Treats is sure to satisfy the sweet tooth. The FunHouse Treats included in this package are Skittles, SweeTarts, Swedish Fish, Nerds, Haribo, Sour Patch Kids, Twizzlers, and Starburst. This combination of treats are ready to cure the cravings of bumpy crunchy candy shells, chewy jelly-beans, changing fruit flavors, yummy jawbreakers, and everlasting gobstopper desire that your party wants to cure.
OKAAYYY, the Sour Patch Kids  Halloween Candy mega pack will win over the chewy-chewers that enjoy texture in their halloween treats. Have your crowd enjoy Sour Patch Kids assortments of soft and chewy flavors. This pack contains a mixture of 24 individually wrapped trick or treat bags and the possibilities are endless.
Reminder 2- Serving Spooky Decorative Candy
For Halloween fans, the supply of candy has to be not only bountiful but also spooky. Candy in the theme of Halloween is partly what separates candy on any regular Thursday to candy on a Thriller Thursday. Set the tone this Halloween with these goodies for your baddies.
The M&M's Ghoul's Mix will set the vibe on any simple table. The color scheme in this treat can help elevate and add to the Halloween decor. In the M&M Ghoul's Mix, the Halloween milk chocolate candy comes in green, purple, and orange. These details will set the tone of the night.
Let me be clear. It is not a Halloween if a pumpkin is not invited to the party! Reese's Peanut Butter Pumpkins are here to provide the pumpkin experience. This item comes with the Reese's Butter Cups shaped as pumpkins to let fans enjoy their Halloween holiday. Everyone eats these treats in their own way ( do not shy, admit it! ) and since it is shaped differently, it makes you wonder what part to eat first. Comment down below, how do you eat your Reese's Peanut Butter Cups?
AH..OREOS! We can all admit our own preferences in how to enjoy the perfect Oreo. Some separate the cookie and lick the stuffing and others may just take a bite out of the cookie (hmmm not judging, but judging.) This Halloween holiday, Oreos have the Oreo Fall Treat Snack Packs or, you can try the Oreo Boo version! This packaging includes two variations of the Oreo cookie. Fans can enjoy the double stuff Oreo cookie and also traditional Oreo cookie with a twist; same great taste but in an orange cream with a decorative cookie.
Reminder 3- Healthy Treats For Halloween Attendees that are Here for a Good Time and a Long Time
I am in no means trying to crash the party, but for those looking for health conscious option, this item sure makes a great contender.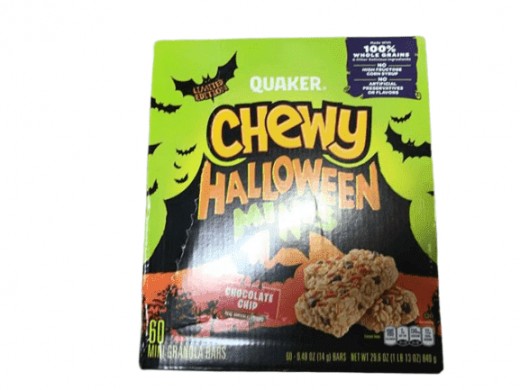 Quaker has entered into the chat! This Halloween, Quaker has a limited edition chewy Halloween chocolate chip mini granola bar with candy pieces. This items comes in at 180 calories with 2 grams of saturated fats. It is made with whole grains with no high fructose corn syrup. It is certainly a great choice to have for trick-or-trickers.
But no matter how you celebrate this Halloween either with children, adults, or even your self; there are many halloween treat ideas available to cure your thrill for the holiday.